Preparing Granite for Repaint
 If you are tired of looking at the same old worktop for a long time, you may want to get it replaced. If you have a granite worktop, you may perhaps already know that it is pretty expensive and the installation requires a lot of hard work. So, to save money, time, and efforts, instead of going for the replacement of the worktop, you can instead use the spray granite paint. Also, whether you are repainting the granite worktop in the kitchen or bathroom, it will reduce the downtime. New installation takes more time than repainting. Here is how you can prep the granite surface for painting.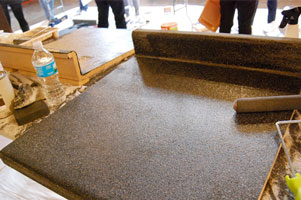 The first part of the preparation is cleaning of the countertop surface. Clear the worktop and make sure that you wash it thoroughly with the TSP. This will help in removing any dirt or residual grease. While using the TSP, make sure that it doesn't come in contact with the appliances or the sink. It is a pretty strong chemical and can cause abrasion.
Although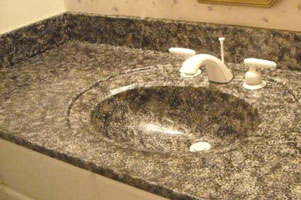 the downtime will be relatively much less with repainting, but there is still some. Therefore, you will need to make some arrangements for the preparation of the food during the repaint process.
The next step is to scuff the worktop surface using the sandpaper. If the surface is too glossy, the primer will not stick to it properly. Once you are done, remove any scuffed particles from the desktop surface.
Cover the areas around the worktop to make sure that they are protected from the spray granites paint. You can tape off the areas around the worktop. You will need to cover the walls, sink, cabinets, and anything near the worktop. The best and the most cost-effective technique would be to tape the newspaper around the walls and cabinet surfaces to protect them from the paint.