Understanding the Paint Rollers
 If you want to get the desired results with the painting job, it would be worthwhile to understand a bit about the paint rollers. You will want to know that certain types of rollers go with specific types of paints. Matching the right roller with the right paint will make the painting job easier and you will also get the desired results.
Foam paint rollers are pretty popular and most of the people buy them because they are cheap. Also, they are disposable and hence storage is not a problem. The biggest advantage of these rollers is that they absorb a lot of paint and therefore help immensely in the even application over the wall. But this is also a challenge. These rollers also tend to release a great deal of paint. Therefore, if the extra pressure is applied the paint flows down and leaves the line from the edge of the roller mark.
---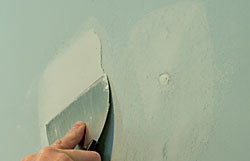 Let us consider semi-gloss paint. As we know, these paints have higher sheen than the other paints. They can even be shinier than the satin paints. The gloss as well as the eggshell paint is easier to clean and they can also withstand hard scrubbing. For these paints, it is best to use the lamb wool roller or the synthetic roller.

Before using the roller to paint the wall, it is highly recommended that you do the preparations correctly. Preparing the wall for using paint rollers entails cleaning and filling the gaps. You can clean the wall with the help of light detergent. Once you have washed the wall, you can dry it with the help of a damp cloth. To fill the crevices and holes you can use the joint compound. It would be good to use the primer before applying the paint.