There would be furniture items in the room that you will need to remove, before you start the painting process. Therefore, move as many furniture items to the other room as possible. You may not be able to remove all the furniture. To protect them, you will need to ensure that they are properly covered. You will also need to cover the floor to protect it from the paint. To cover the floor, you can make good use of the canvas covers. For the furniture, plastic covers will be great.
If you want to get the proper paint adhesion then the wall needs to be cleaned properly. Cleaning the wall is easy. You simply need a light detergent. The light detergent will easily clean the wall surfaces of any dirt and even grease. Grease removal is also extremely important to ensure that the paint stays. Once the washing is complete, use a piece of cloth to dry it.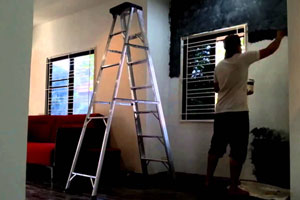 If there are any glossy surfaces to be painted, such as granite countertop, you will need to use the sanding technique to make it more fit for painting. Over the time the walls develop holes, crevices, and imperfections. You may also have nail holes. All these gaps need to be filled using the sparkling compound.
Some customers may look for textured effects on the wall. The wall paints with textured effects are available in a number of colours and textures. But to make sure that you get the best results, it is important to prep the wall properly. If the wall is not prepared in the right way then the results will be far from desirable. To ensure the durability of the paint and also to make sure that the results are satisfactory, give as much time as it needs to prepare it.