Jotun Paint
The Jotun Group is a major producer and distributor of Paints and Powder coatings. The Group is made up of 63 companies found in 45 countries and has 37 production facilities located in 21 countries. Jotun Group also has a large presence in more than 100 countries around the world. Their various paints and coatings products have been specially designed to last through even the most unfavorable conditions.
Committed to safeguarding your property
At Jotun, they are committed to safeguarding your property by providing you with products that improves the appearance as well as guarantee durability. Their product range is influenced by technology, created according to the latest industry standards and are designed to be sustainable. Jotun also specializes in high quality decorative paints for durable and magnificent finishes. Their powder coatings are designed to protect your surfaces against corrosion and fouling in addition to passively protecting steel surfaces from fire damage.
Harmless interior paints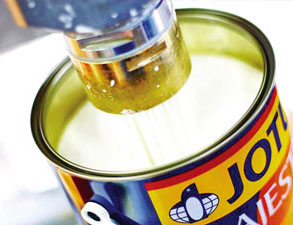 Their interior paints are made in such a way that the odor is significantly reduced and are simple to apply, they also come in different colors. Their major interior paints brands include Majestic and Strax Easy Clean which disguises uneven wall surfaces. Jotun has especially rid their products of the harmful Alkylphenol ethoxylates (APEOs) and Formalhyde.
Majestic
Strax Easy Clean
Jotaplast Max
Majestic Primer
Jotasealer 03
Superior exterior paints for all surfaces
The exterior products offered by Jotun, are made with resilience and sustainability in mind. They can be applied to concrete and plastered surfaces and are anti fungal, which assures you that your walls will retain their beauty at all times. Their exterior products can, and are being used in all types of outdoor structures and buildings like Airports, power plants, oil and gas facilities and bridges too. Their Jotaroof paint is made specifically to add color to your roof while also being resilient to extreme conditions like sunshine or rain. Other examples of the exterior products are JotatoughHiShield and Jotashield Primers.
Jotatough HiShield
Jotaroof
Jotashield Primer
Jotun Ultra Primer
Cito Primer 09

There are also other brand of paints such as: Dulux paint, ICI paint, KCC paint, Nippon paint, Nippon paint Momento